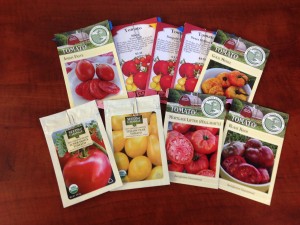 It's that time of year again to start thinking about warm weather crops. Seems to me that this spring is early and the winter was pretty mild. Before I can seed any seeds, I have to make quite a few brail labels and sort everything out to stay on the organized side. I don't like to plant tomatoes without knowing what I am growing. After all, isn't the whole point in growing tomatoes from seeds to pick the best varieties, best tasting, the most productive etc.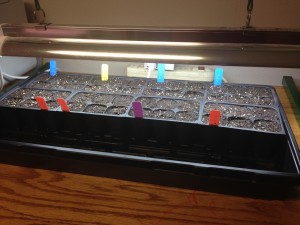 Here is my 2016 list of tomatoes:
 

Sun Gold

Sweet Million

Black Krim

Mortgage Lifter

Gold Medal

Amish Paste

Siletz

Super Sioux

Yellow Pear
 The list is not very extensive, but includes cherry, yellow, black and different red tomatoes. The Siletz are especially interesting because they are supposed to be self-pollinating and quite early. 2 of above varieties are returning from previous growing season, black krim and sun gold. Sun Gold is number 1 in sweetness and Black Krim just perfect tasting beefsteak for summer salads and sandwiches.
 "Ecclesiastes 11:4  He that observeth the wind shall not sow; and he that regardeth the clouds shall not reap."